Do You Hold A JLA Coaches or Instructors Certificate?
This message is for you!
Renew your license to receive your updated certificate!
What Can You Do With Your JLA License & Certification? You can begin or continue building your own coaching practice or set up your online brand right away! You'll be able to legally use JLA tools and materials, even logos! Now is the time, as demand is on the rise for qualified love and life coaches around the globe! There are so many opportunities for you to teach, share and coach using your JLA license.

The JLA LICENSING RENEWAL PACKAGE is for individuals who have completed one or more JLA certification courses and would like to renew your license and certification! Renewal has it's benefits. First of all you gain an exclusive discount on Gold Membership here at jLA!
JLA has certified over 140 Feminine Power 101 Level Instructors & i2Tantra Instructors! Are you one of them? Great! This is your opportunity to actually use your certification in a productive manner! You can become a practitioner or instructor of tantra in your city, or you can become a coach for women who want to access their Feminine Power!
Feminine Power 101 | For those who completed this course, renewal of your license gets you access to the full course once again so that you can refresh your memory! The course now costs $999, but is FREE for you because you have already taken the course, you receive even the new additions, as well as tests and new materials for the low renewal price!
Once you complete your coursework you'll feel confident! Confident enough to start your own feminine power class, share the info in a high school or college course that you tailer for the students, or even start taking clients, doing oracle readings for them in the area of love! That's so exciting!
i2 Tantra | For those who have completed the i2 Tantra Course you will now be able to go online and check out the new additions to that course, making it possible to actually refresh your knowledge base and catapult yourself to new heights in the industry! If you haven't noticed, there are lots of Tantra classes and instructional videos out for the world to partake in - why wouldn't you provide your own? You could create a community class to be given in your area or do online work with this information!
If you're interested in becoming a practitioner, no problem! Now you will have your i2 Tantra Certification in hand! There are so many in your local area who are looking for a great tantra practitioner, with your certificate and the training modules located here at JLA, you're well on your way to being fully prepared to start taking clients!
JujuMama Love Academy is the premier online school for coaching love, tantra & spirituality!
You now have the opportunity to sport your knowledge of the specialized instruction that you have already earned in the field of love and tantra coaching!

Once you are placed into the Gold Membership you'll be automatically added to our private groups on Facebook.
The Blue Butterfly Feminine Sanctuary ~ optional

The Peaceful Warriors Men's Group ~ optional

The Progressive Love Basecamp ~ optional

The Sun Manifestation Group for Gold Members ~ optional


JLA Big Business Incubator ~ mandatory for GOLD members who are coaches
There you will be given direct one-on-one instruction about how to market your service or product. You will even have access to the JujuMama social media platform to broadcast your work!
Yeas! We will give you access to our own marketing machine as well as help you spruce up your online presence. We will also place your information on our pages for the world to see! You'll be given a special spot on our new website! And you will be eligible to teach courses here at the Academy! This is done through our Adjunct Coaching System!
You have GOT to see the back end here at the new and improved JLA! You can post all your classes, tests and information about your own company here on our site! You can also blog here! Forget starting your own blog and going through that hassle. You can blog here easily and as you wish! Send your blog posts to your followers and link them to your courses!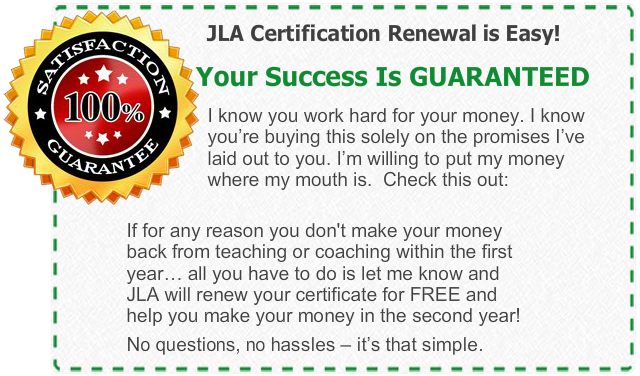 Here are a few screenshots showing what you will get once you renew your license. The back end here is chock FULL of goodies just for you. Not only will you get the JLA resource library, but your course will be ready for you - the refresher!
Once you click on one of these courses you will see a full video of the course. SOme of the courses are audio only, but those are few and far between. Here is a screenshot of the videos you will see:
As well, you will have your name and information featured on our BRAND NEW Home SIte! yes! Along with the new JLA Academy site we are building this site out that features all our coaches around the world! We plan to be the largest provider of New Paradigm love and relationships self help in the universe certifying the most love experts in the world! And the best *wink*.
Now Is the Time For You To Expand Your Audience!
Obtain all the goodies above and expand your practice. The world is looking for you! Your talents, skills and determination have gotten you this far! Take the next step with the new JLA system that will launch you even further into the world of online coaching, instructing and supporting people all over the world!
What Is the Price of JLA Certification Renewal?
That depends on whether you have received a Coaching license or an Instructor's license. Here are the price breakdowns:
Notice* If you are currently a member of JLA and want to renew your license, you can do that here. Your prior subscription will be canceled for Gold or Silver membership, respectively you'll need just ONE membership here at JLA.